I'm having a hard time getting motivated today. Possibly because everything is just... chaotic. Everything is a mess, there's still stuff all over my dining room table where we were just too drained to put it all away last night, because there's stuff covering the dining room table (and chairs) there's no place for me to eat or sit down and write out my to do list and thoughts I have while I nurse a cup of tea like I usually do every morning, and on and on and on.
I have managed to get a few things done this morning.
The FlyLady
talks all the time about how anyone can do anything for 15 minutes. I haven't had to use my timer like she recommends in quite a while but I've fallen back on that hard this morning. I work for 15 minutes, then I lose it for 15 minutes. Or maybe that should be "I lose it for 15 minutes then pull myself together and get some work done for 15 minutes because the FlyLady says anyone can do anything for 15 minutes and I can hold it together for 15 solid minutes". Either way, there it is.
So, let's see if I can clear some of this stuff out of my head so I can stop falling apart every other 15 minutes and maybe actually accomplish something today... if it's nothing more than rewriting a chapter.
Just to be clear, all these pictures were taken yesterday. These are not old pictures. The color is off in some of these, but not that off.
So, this is that pipe in my bathtub that I keep talking about. This morning, it still looks like this.
These next few pictures were taken sometime between 10.30 and 11.30am yesterday while the cabinet guys were... missing. I don't know where they were, they just left and were gone for just over an hour. I'm assuming they went to go get the power tools and stuff they had when they got back.
This is my water heater. Normally, one cannot see it because it lives in the corner under/behind cabinets. There's no pan or anything under it. It sits on raw concrete and is not accessible in any way unless you take out the kitchen cabinets... which is fun when it springs a leak or needs to be cleaned or worked on or something. Take note of the undamaged door frame. Just to the left of the doorknob. That's going to be important shortly.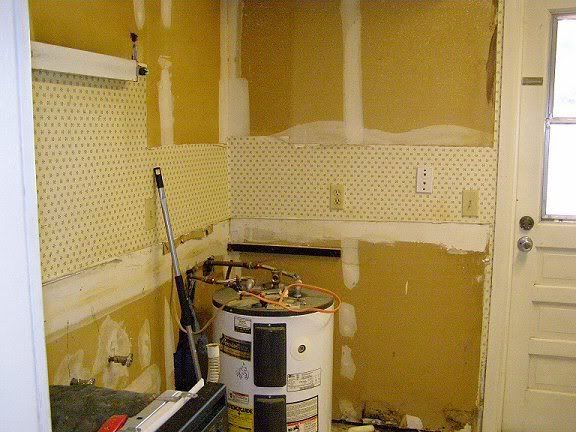 The... old... cabinets. On my front "lawn".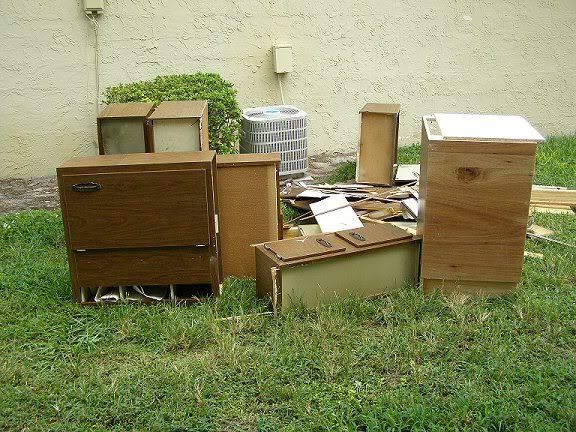 These next pictures were taken... later. They came back just before noon (I thought it was 1130, but checking my cell phone log I realize it was 1146am when A. called me to find out what I wanted from Subway since I couldn't fix myself lunch with the kitchen as it was and they showed back up about 10 minutes later) and worked until about 4.30pm. Then left. My kitchen was... a mess, and that's putting it not only politely but mildly.
The new cabinets don't... quite... fit into the space of the old cabinets. Also, I might add, the cabinet there over the sink is taller than the old one was, therefore, they jammed it into the space and mounted it directly atop the light fixture thus ensuring that they not only broke the fixture but that the cover -- or rather, a new cover since they also broke the old one -- will not fit over the light bulb again. There's nothing quite like having a bare fluorescent light bulb shining just above eye level every time you stand in front of the sink.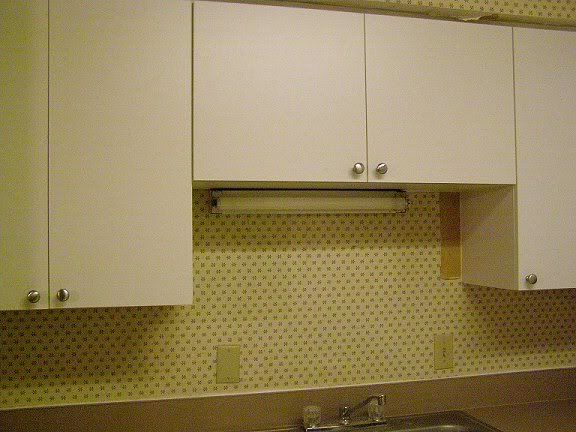 This is the lovely space where the spacer board between the dishwasher and the wall... stops. Four inches short of the floor. It's just... a hole. Hopefully I can keep the cats from shoving their paws in there. And keep whatever might be in there...in.
And my floor...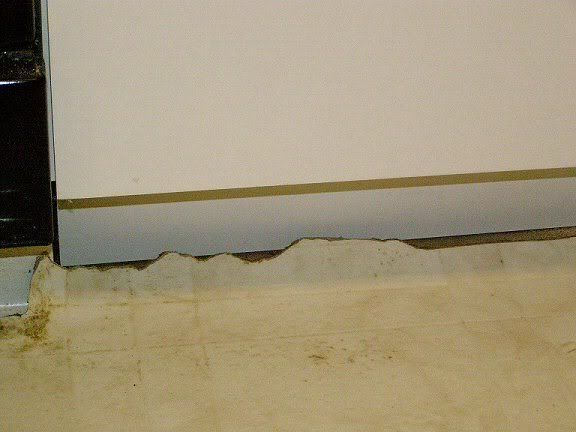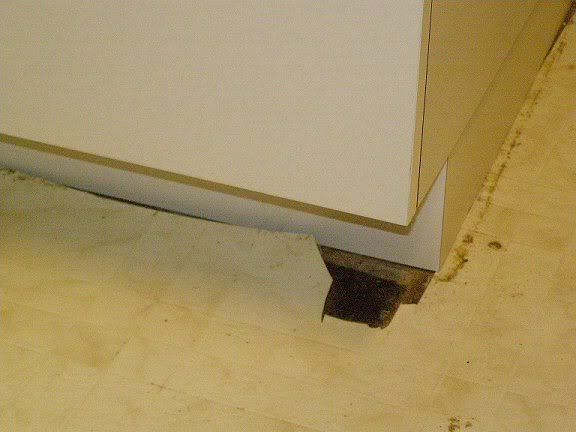 And, for some reason, they took the plate off this outlet. It was there when I took the first round of pictures while they were missing, so sometime after they got back it vanished. We don't know why. Or where it went. But as of this morning, it's still just like this.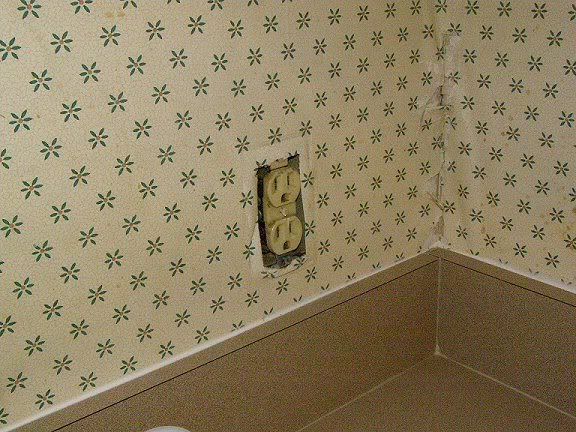 I can't get a picture of it because it... sort of... looks ok, just a little... crooked... which is why I noticed it, but when they remounted the range hood they only bothered to do so with the two front screws. They just... jammed... the back into place. It's sort of sitting at an angle where the back is trying hard to fall.
There are a lot of other little things -- like the adhesive all over my floor and the unbraced sink and the drip under the sink that I can't find the source of and the seriously messed up dead space in the corner (not blind space that's hard to reach but DEAD space, as in, they BLOCKED OFF that corner so that it's completely unusable) where I used to keep all my rarely used cooking utensils (like the waffle maker, little food processor, certain mixing bowls only used at the holidays, etc.) -- but nothing I could really capture with a photograph.
They left my apartment a mess, but before they left they stacked all the crap in front of my apartment all nice and neat. Glancing out the window this morning at a little after 11am (edt), yup, it's still there. Only now it's soggy because it rained quite a bit last night.
Oh, and remember I said to take note of the undamaged door frame earlier? This is what it looked like when they left.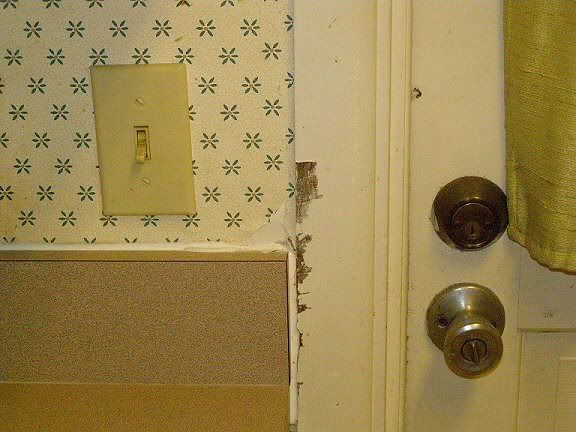 I suppose, though, that I should be grateful. They were supposed to do three units in this complex yesterday. The maintenance guy that came by after A. turned in my typed list of complaints said that the people in the other two units got home and called the office. Their cabinets were sitting in their dining rooms. I'm soooo thankful I told the manager that I wanted to be the first apartment of the day. I can't begin to imagine how pissed A. would have been (not to mention how pissed I would have been) if they'd not gotten to us at all yesterday and everything that was in the kitchen had to sit under and on the dining room table while we ate fast food again.
My mom told me that at least it's better than before, and I'm not so sure I agree (sorry Mom). Before, it was one cabinet under the sink that was completely rotted out and unusable. No one saw it and as long as I kept the cabinet doors blocked the cats stayed out of it and it was ignored. Now, everything is theoretically usable (I'm still not sure I trust that hood over my oven or the light over my sink and I've not run the dishwasher yet) but the entire kitchen looks like something out of the ghetto. Except for the pretty new white cabinets and dusky rose colored counter tops.
Sure, a reasonable landlord would see to fixing these complaints and fixing the damage that was done by the work crew they hired. I think under different circumstances these items would be taken care of to our satisfaction within 48 hours. But circumstances aren't different. I honestly think they're overwhelmed and trying to take care of too many issues at once. I don't think they're being able to devote any real attention to things that come up, especially emergencies, but at the same time they're trying to make improvements, possibly to keep the current tenants happy, and not being able to do any of the jobs RIGHT.
Why do I think that? Today at 930am marked the official time that it's been three full weeks from the day my bathroom was gutted (it was gutted the morning of August 30, 2007 between 830 and 930am) and my bathtub STILL looks like it does in the above picture. Three weeks of having a pipe sticking out of my tub wall. They say it takes 21 days for a habit to form. I'm not sure what bothers me most at this point, that I still have a pipe sticking out of my bathtub wall or the fact that we're getting used to it.
In other news... well, there's not much else.
K. is doing well at school. She and her father have some big science fair meeting to go to tonight (A. told me I could stay home and cook dinner instead). The official progress report she brought home yesterday has her pulling in A's in Honors Reading, Social Studies/Geography, and Honors Math. She's pulling in a B in Honors Science. For some reason she's pulling a C in Honors Language Arts. It seems to be grammar related but it was hard to tell with the information on the sheet that went back to school today. All her teachers seem to think she's a delightful child and her conduct grades are all "satisfactory".
A. is doing work stuff. He has some travel plans soon, but they're slipping my mind at the moment.
And me? A. let me borrow his lap top the other night and set it up for me in the bedroom. I sat on the bed and wrote without distraction while A. and K. watched tv and/or played x-box in the living room. I... accomplished... something, and it felt good. Last night I accomplished nothing. A. set me up in the bedroom again and I dozed more than I typed. After the previous night's accomplishment, last night was a huge blow that I'm feeling especially hard this morning. Except for the other night, I haven't written in over a month. With no crafts to do (supplies are in boxes somewhere, probably in storage again) writing is my only creative outlet... and not being able to write is tearing me apart, especially this past week as I'm just starting to hear some of my characters again (they all went missing for a while). I'm tired. And I'm frustrated. But I need to push on through the day, so I guess I'll close this, set my timer again, and get on with it.