First, before I forget because I'm noticing some scatterbrainness (is that even a word??) creeping up on me today, I want to express my deep gratitude for the encouraging and supportive words and virtual hugs that came via email and those left in comments. Thank you from the bottom of my heart.
To answer the question everyone seemed to have: No, there's really not anything more than a convenience store that's close enough for me to walk to. Even if there were, I'm not sure that I would because that would mean leaving said strangers in my apartment alone with my felines (and everything else), even though my felines would be shut up in my bedroom. Reflecting on how much inconsideration said strangers showed for my electric bill (kept leaving the front door open and all the lights they passed on -- even if they were leaving for several hours), my water bill (left the water hose outside running several times when they left for the night), my carpet and rug (mud, dirt, and water tracked everywhere), the bath towel that was in the bathroom sopping up the water from the leaking bathroom sink (they ruined it by wiping all sorts of putty, sealants, primer, and who knows what else on it), the job they were supposed to be doing (stopping to watch parts of whatever movie I was watching on days I had the tv on, peering hard at stuff on the desk and table, just... giving me the impression that they were being nosy about what we had here and not liking the fact that I had the bedroom doors shut when possible), and my family in general, I'm not sure that I trust them in my home without me or A. being here.
I wish I could say it's all better now, but I can't. The bathroom STILL isn't finished. The kitchen has been measured and awaits the arrival of cabinet fairy, at which point my kitchen will be gutted and become unusable for... who knows how long. If anyone feels particularly inclined, I think we'd all deeply appreciate any prayers that we (1) acquire financing, (2) find the house we want, and (3) can swing what it will cost to get us moved out of here and into said house.
I feel flu-ish. A. says it's probably stress-related. He could be right. (I'm still having nightmares and with him gearing up to leave town in a few weeks, I just KNOW that they're going to hit us with the kitchen ordeal during that time.) It could also be PMS. Or I could actually be getting sick. Either way, I just want to sleep right now.
K. seems to be adapting well to middle school. Progress reports that came home Friday indicate that she's pulling in an A in both Honors Math and Honors Science. Hopefully the chaos of losing the kitchen in coming weeks won't last too long or be too much of a strain on her. I know those 8 days of bathroom chaos were wreaking havoc with both her morning routine and her homework time (real hard to concentrate on homework with strange men running all over the apartment making all sorts of distracting noises and smells).
Menu, menu, menu. I woke up this morning still needing to make a menu and just felt... uncreative... about it. I started to make one and ended up crying in frustration. Last week's menu was thrown out the window several nights because of maintenance men being here until 8-830pm and I refuse to cook when they're spraying or grinding or filing stuff that's then being blown all over the place by the AC. I'd rather not feed my family sheet rock dust, thank you very much. So. Menu. Yeah. Simple. Basic. Boring. Maybe someday I can stretch my cooking muscles again, but for now it's time to rest them and just focus on getting through this. And if we have to get take out because the kitchen is unusable for any reason at all (I'm a bit anal about the condition of the area where I cook), then so be it. Right?
Sigh. Yeah, I'm not convincing myself either. And it's killing me to have to be getting take out so many nights a week and knowing that it's not over yet when we've worked so very hard to STOP eating take out and fast food, even on the weekends.
As always, much gratitude for Laura at
I'm an Organizing Junkie
for hosting
Menu Plan Monday
.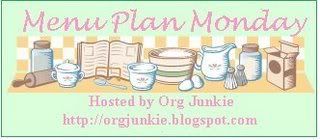 Sunday
dinner
: leftovers
Monday
dinner
: pasta, salad
Tuesday
dinner
: breaded cod,
herb-roasted potatoes
, broccoli
Wednesday
dinner
: rice with chicken, broccoli, peas, salad
Thursday
dinner
: ??? - possibly leftovers
Friday
dinner
: rice, beans,
hoe cakes
, salad
Saturday
dinner
: ??? - possibly leftovers