Yeah, so, this is Day Five of not having a fully functional bathroom. It's truly getting old. The guy is supposed to be back today to finish "his" part and rip up the floor (why?? WHY??) and tomorrow (Tuesday) morning when (if) the complex manager comes to work he'll let her know that she needs to have the floor people come out and put a new floor down. The contractors are supposed to be back on Tuesday too (yeah, right) at which time the toilet will be taken out and put a new wall behind it. Based on their
last
, um, adventure, for lack of a more polite word, here I'm not expecting to have a toilet for several days... which really sucks because this is a one bathroom apartment.
Sigh.
Yeah. My head hurts. The panic attacks have subsided some, and I've found that I can hold them further at bay by locking (literally LOCKING) myself in my bedroom with the felines when these strange (less than trustworthy-looking) men are romping around in my apartment.
Truly, I'm over this game. We'll be looking for a house soon. A. has had me pulling whatever paperwork we might need when we go talk to the credit union about a mortgage. The only thing that might enable us to get into a house quicker than we had planned is his eligibility for a VA loan and the fact that we're first time buyers. Or... he is. I'm not sure I actually qualify because years and years and years ago I was the co-signer on my mom's house. Still, since he's the only one bringing in an income (I refuse to say he's the only one "working" because I bust my butt "working" as a stay-at-home mom), my status may not matter. We'll see though.
So. Menu. I made one for this week (mostly because the lack of structure they've been creating in my home was starting to push me into a very bad place and I desperately needed my structure back), though things may change drastically depending on how often and how late the workers will be here every day this week. (Yes, I fully expect this "simple job" to last until the end of the week and last week they were here until 8pm on a few days and it's damned hard to cook when they're filling the apartment with noxious fumes or I'm locked up in the illusion of safety that is my bedroom.)
As always, much gratitude for Laura at
I'm an Organizing Junkie
for hosting
Menu Plan Monday
.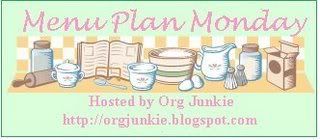 Sunday
dinner
:
spiced citrus chicken & rice
, garlic carrots (recipe to come),
mini cheese biscuits
Monday
dinner
:
chopped beef stroganoff
, egg noodles, lima beans, salad
Tuesday
dinner
: rice, beans,
hoe cakes
, salad
Wednesday
dinner
: parmesan crusted tilapia, rice, peas, salad
Thursday
dinner
: pasta, salad,
parker house rolls
Friday
dinner
:
orange-glazed pork tenderloins
,
quick baked potatoes
, various green veggies, salad,
parker house rolls
Saturday
dinner
:
pot roast
(without the potatoes), broccoli, corn,
herb-roasted potatoes
,
parker house rolls