Mercy. Making this week's menu was tough. A.'s birthday is Tuesday. I'm supposed to go shopping with my mother on Wednesday and A. may have some big two-hour test to deal with in the evening. On Thursday evening K. has an orchestra concert to perform in which really messes with that night because she has to be back at school one hour after she gets home. Saturday we're going out of town to a sort of baby shower bar-b-que thing for one of my cousins and I have no clue when we'll get home.
In other news, K. and I have caught the hooping bug. We spent part of this weekend hunting down materials and having A. make us hoops. Mine is too large to use inside the apartment but I'm not sure about K.'s. I'll probably try it out one morning after they leave.
We also scored me some of the ugliest sneakers ever made. Ugly, but pretty comfortable. There's no way I'll EVER confuse them with my everyday wear shoes... which I also need a new pair of. Now if I can just find clothes...
Anyway, I need to be getting to bed so that I can get up at 5am to go walk in those ugly shoes. It'll still be dark at 6am so it really won't matter. No one will see them because there will be no one around, and if there does happen to be someone around, it'll be too dark for them to see the ugly shoes.
As always, much gratitude for Laura at
I'm an Organizing Junkie
for hosting
Menu Plan Monday
.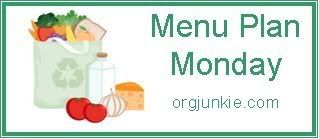 Sunday
breakfast
: french toast
lunch
: leftovers
dinner
: foraging
Monday
breakfast
: scrambled eggs, grits, hash browns
lunch
: tuna, orange
dinner
: stir-fried round steak, baked potatoes, green peas
extra cooking
: flat-bread
Tuesday
breakfast
: cereal, toast, OJ
lunch
: leftovers
dinner
: pot roast (crock pot), broccoli
Wednesday
breakfast
:
quick cinnamon rolls
lunch
: ??
shopping with mom
dinner
: pasta
Thursday
breakfast
: french toast
lunch
: chicken patties (
this recipe
made with chicken), orange
dinner
: fast food after orchestra concert
Friday
breakfast
: eggs, grits, hashbrowns, toast
lunch
: ???
dinner
: sheppard's pie
Saturday
breakfast
: waffles
lunch
: --- BABY BBQ ---
dinner
: foraging on leftovers