Running a bit late with the menu this week, but it's done. In pencil, but it's done.
I'm starting something new this week. Well, I sort of did it last week, but this week it's planned. One of our trends is being out doing stuff on the weekends and getting so rushed for time that we end up eating out (or getting fast food and bringing it home). This week I'm going to cook a couple of meals on Friday, stash them in the refrigerator and ta-da! Food is cooked for the weekend! All we have to do is be home (or, you know, come home) when we're hungry and heat stuff up in the microwave. Ta-da! Yeah, we'll see how it goes.
Last week was a bit on the chaotic side, but I'm starting to think that might be normal for this household. Mercy, I hope not. Just some of the chaos came in the form of a dental bill that was estimated at $200 but came up to just under $1000, some killer headaches, me sending some of my fictional writing to a published author who offered to critique it and give me some advice, and the usual general craziness.
The plans for this week include mostly clutter purging, doing some inventorying before school starts in three(ish) weeks, maybe doing a bit of shopping for both school supplies and clothes, and maybe making some jewelry. With A. out of town, K. and I also plan on sprawling in the evenings to read. We like to read. There may even be nights when I get to write while she reads.
Yes, A. is out of town again. He left yesterday afternoon. He'll be back a little on the late side Friday night. It makes menu planning for this week easy. K. and I can eat the same two or three things all week and not get bored with it.
Not much else to say. Weather has been Florida summer weather: hot, and when it's not hot, wet. We've desperately needed the rain, though, so I've growled at anyone complaining about it. Beyond that, it's just life.
As always, much gratitude for Laura at
I'm an Organizing Junkie
for hosting
Menu Plan Monday
.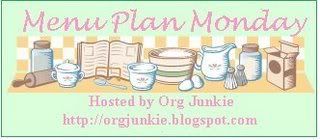 Sunday
lunch
:
pancakes
dinner
: chicken salad
Monday
lunch
: leftovers
dinner
: pizza hoagies
extra cooking
:
spaghetti/pizza sauce
(x2),
tuna patties
, chicken patties (tuna patties recipe made with chicken I boiled last night)
Tuesday
lunch
: movie munchies / salad
dinner
: rice with chicken, green peas
Wednesday
lunch
: movie munchies / salad
dinner
: spiced boca "meat", rice, veggies of a green nature
Thursday
lunch
: leftovers / pizza hoagies
dinner
: leftovers
Friday
lunch
: chicken salad
dinner
: clean out refrigerator buffet
extra cooking
: spiced ground beef,
pot roast
, possibly
tortillas
if time and weather permits
Saturday
lunch
: leftovers
dinner
: leftovers (or pasta)