I didn't do a menu last week at all and my world sucked all week. I don't think I'll be doing that again for a while.
A. is leaving town Monday afternoon and coming back Tuesday night. It's just a short one night trip this time, but it gives me two days of not having to plan food for him.
K. and I haven't really made any plans for this week beyond (possibly) the free movies on Tuesday and Wednesday morning. A. recently installed some old games on the computer my mom gave her and she's been pretty absorbed by them. I might get some cleaning out of her this week, though (if I can get her to stop playing Warlords, that is). She wants the wooden cd crate I pulled off the top of my desk the other day and I'm using it as a bargaining chip. I've been rearranging things around here and getting a little crazy with it. I'm not done yet but hopefully the dust will settle quickly (I'm tired of sneezing) and life can get back to my version of "normal".
On a completely random note, I picked up a new alarm clock this weekend and gave K. the one from our room. It was a great little alarm clock, but a month after we got it, the display for the second alarm stopped working so I could never tell when my alarm was set. It's been driving me batty for a year or so, and it was just time to get another one. Also, the timing was right because K. needs to learn to wake up to an alarm and she won't really need a clock with two alarms. It seemed more logical to slide our old one to her and replace the one that's been driving me batty for so long than to go out and buy her one.
I'm leaving Friday and dinner Saturday unplanned for now. Grocery sales start mid-week so I'll plan something after I (a) see the ads on Wednesday and Thursday and (b) figure out what we're doing next weekend (there may be some construction-like projects going on).
As always, much gratitude for Laura at
I'm an Organizing Junkie
for hosting
Menu Plan Monday
.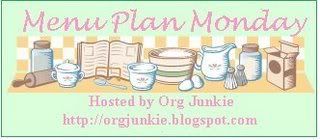 Sunday
lunch: Subway
dinner: forage night - everyone fends for themselves

Monday
lunch: tuna patties, mac & cheese
dinner: leftovers
extra cooking: spaghetti/pizza sauce (x2),

Tuesday
lunch: movie munchies / salad
dinner: beans, rice, salad

Wednesday
lunch: movie munchies / salad
dinner: pot roast, veggies (whatever jumps out of the freezer when I open the door)

Thursday
lunch: grilled cheese sandwiches, fruit
dinner: leftovers (or possibly pasta)

Friday
lunch: ??
dinner: ??

Saturday
lunch: pizza hoagies
dinner: ??