No blahblahblahing about the apartment today.
A. returned Thursday night rather than Friday night, and while I was considering letting him walk home so that I didn't miss
CSI
that wasn't really an issue since his plane was delayed for two hours. He arrived just after 11pm. It was 130am before we got back from the airport and fell into bed.
The weekend was... interesting. Saturday morning we met up with one of K.'s friends from school, bopped around the Museum of Science and Industry with her, then headed out to do grocery shopping after the girl was drug off by her family.
Sunday morning found us picking her up and taking her with us to see
The Game Plan
. Cute movie, by the way, especially if you have kids. After the movie and kid drop off, there was more grocery shopping.
All in all, it was a busybusybusy weekend... largely with an extra child.
This week won't be so busy. A. is driving to a city some two hours northeast of us everyday (he rented a car for the week). He's getting up at 3am so that he can leave here between 430 and 5am to be there on time. He'll be getting home... when he gets home.
This gives me the unique opportunity to be up woken up just before he leaves and have quiet time until 7am when K. has to get up for school. This gives me a jump on the not only the chores, but also the writing. If I can have my chores done by 745am when I take her to the bus stop, then when I get back I have the rest of the day to focus on writing and doing research. I don't know what time we'll all be wanting to fall into bed, but it should prove to be an interesting week. Just not too terribly busy.
So. Menu. Because my family really does like it when I feed them. And so do the little dinosaurs living in my tummy.
And there will probably be some additional "extra cooking" items added later, as whims occur. I guess it'll just depend on which way the wind is blowing.
As always, much gratitude for Laura at
I'm an Organizing Junkie
for hosting
Menu Plan Monday
.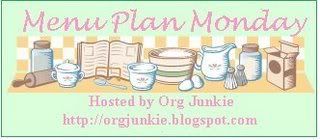 Sunday
dinner
: Chinese/take out
Monday
lunch
: leftovers
dinner
: pasta, salad
extra cooking
:
sauce
Tuesday
lunch
: leftovers, fruit
dinner
:
Autumn chicken and apples
, mashed potatoes, lima beans, salad
Wednesday
lunch
: grilled cheese sandwich, fruit
dinner
: make it up out of the pantry and freezer as I go, salad
Thursday
lunch
: sandwich, fruit
dinner
: parmesan crusted tilapia, macaroni & cheese, green peas, salad
Friday
lunch
:
dinner
:
tortillas
,
taco meat
, salad
extra cooking
tortillas
Saturday
lunch
: ??
dinner
:
homemade pizza