Very quickly, because I've got one foot in The Land of Zombies and the other is anxious to cross the border, too.
Today was spent purging and cleaning. I'm still not done, but getting much closer. Tomorrow will, hopefully, see the last of the all day purging in the living room and dining room. I... should... be out of boxes by the time I fall into bed tomorrow night.
Wednesday is the last free movie of summer. Later that afternoon (as in, I think we have time to swing by home, pee, cool off for a few minutes, grab a bite to eat, and rush out the door again) K. has a doctor's appointment for her yearly well check-up/physical. If there's any cleaning/purging still to do, I'll jump on it after K.'s appointment.
Thursday morning I'm going to do a little bit of the grocery shopping. Maybe. A. is taking Thursday off so that he can go with us to the open house at school. It's at 1:30 in the afternoon and runs until 3pm with an hour of "extra" activities from 3 to 4. I expect we'll go shopping immediately afterward since we'll be getting supply lists from all of K.'s teachers.
Whatever shopping that did not get done on Thursday will have to be finished on Friday. If there's no shopping to be done (HA!! As if...) I'll focus my energy on whatever cleaning/purging is left to be done, including starting on my room.
I have no idea what plans we have for the weekend, beyond getting prepared for the first day of school (Monday). I can only hope that "relaxing" is somewhere in the mix.
As always, much gratitude for Laura at
I'm an Organizing Junkie
for hosting
Menu Plan Monday
.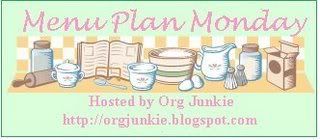 Sunday
lunch
: parmesan crusted tilapia, rice, peas
dinner
: chinese take out
Monday
lunch
: leftovers
dinner
:
hamburger casserole
Tuesday
lunch
: boca chicken/beef patties, mac & cheese
dinner
:
foil-pack taco chicken
, rice & buttered peas, salad
Wednesday
lunch
: movie munchies / salad
dinner
: pot roast, baked potatoes, lima beans, broccoli, salad
Thursday
lunch
: sandwich, fruit
dinner
:
beef and noodles
, green veggies, salad
Friday
lunch
: pizza hoagies
dinner
: pasta, salad
Saturday
lunch
: ??
dinner
: rice, beans,
hoe cakes
, salad