So, um, yeah.
Life got hectic. I got distracted. Life continued on even though I wasn't blogging. It does that.
Menu this week is pretty heavy with the red meat. Um. Almost completely red meat, actually. Oh. Broccoli, too. It's a theme I'm going to call "let's clean out the freezer before we move". It'll be a reoccurring theme between now and the middle of July. I expect all sorts of weird food combinations to be popping up over the next six weeks.
And to make things that much more exciting, summer happened, so now I'm planning breakfast and lunch, too. Wee.
There should be recipe links on at least two items this week, but it's my bedtime and besides needing to get to bed, I just don't feel like (a) finding the recipes, (b) typing them out to post them in my recipe blog so I can (c) link them here. It's just too much effort tonight.
Oh, and Friday is super busy. Not only do I have to take my grandfather to the doctor's office at 8am, but Friday is also the day the husband wanders out of town on business again. I usually take him to the airport, but that may not happen this time since I don't know how long I'll be with my grandparents at the doctor's office.
I never plan weekends, 'cause, you know,
weekend
.
So, anyway, on with the menu.
As always, much gratitude for Laura at
I'm an Organizing Junkie
for hosting
Menu Plan Monday
.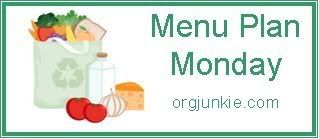 Sunday
breakfast: foraging
lunch: foraging
dinner: oven-fried picnic chicken, baked beans, corn-on-the-cob, potato salad

Monday
breakfast: cereal, toast, OJ
lunch: leftovers, steamed soy beans
dinner: tacos

Tuesday
breakfast: eggs, bacon, grits, toast, OJ
lunch: baked potatoes topped w/cheese broccoli, fruit
dinner: steak strips, rice, broccoli, carrots

Wednesday
breakfast: waffles, fruit
lunch: sandwiches, chips, fruit
dinner: cornish hens, baked potatoes, broccoli

Thursday
breakfast: eggs, bacon, grits, toast, OJ
lunch: sandwiches, chips, fruit
dinner: cube steaks, mashed potatoes, mixed veggies, broccoli

Friday
breakfast: cereal
lunch: --DEPENDS ON WHERE WE ARE--
dinner: hamburgers, mac & cheese, peas

Saturday
breakfast: cereal
lunch: ???
dinner: ???


Blue skies, world.