Last week's menu got all sorts of scrambled but I think we did good, all things considered.
Anything I might have to say to recap last week shouldn't be said, so...
Olympics! How insanely fantastic was the men's 4x100 freestyle relay?? Maybe the French (and everyone else) will think twice before saying things like "The Americans? We're going to smash them. That's what we came here for." Silly boy.
This week is due to be a bit on the tense side with my grandfather still in the hospital and K. gearing up for school (by that I mean she'll be trying to hibernate all week) and just stuff happening.
So, on with the menu.
As always, much gratitude for Laura at
I'm an Organizing Junkie
for hosting
Menu Plan Monday
.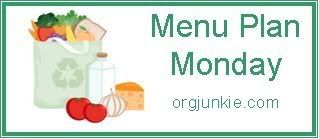 Sunday
breakfast: foraging
lunch: hamburgers, chips, salad
dinner: soup, grilled cheese & ham sandwiches, chips, salad

Monday Mom night (me left alone to write or edit, assuming I'm not watching the Olympics...)
breakfast: cereal, OJ
lunch: sandwich or hot dog, fruit
dinner: baked chicken fillets, baked potatoes, lima beans, salad

Tuesday
breakfast: eggs, grits, bacon, OJ
lunch: sandwich or hot dog, fruit
dinner: pork chops, black eyed peas, mashed potatoes, salad

Wednesday
breakfast: oatmeal or cereal, OJ
lunch: sandwiches, fruit
dinner: stir fried round steak, rice, broccoli, salad

Thursday - Open house at school
breakfast: eggs, grits, bacon, OJ
lunch: leftovers
dinner: shepherd's pie

Friday - Pay day; grocery shopping
breakfast: sausage biscuits
lunch: leftovers
dinner: fish, mac & cheese, broccoli

Saturday - brother's birthday
breakfast: pancakes
lunch: ???
dinner: ???




Blue skies, world.