Spring break is over. K. is back in school today. A. is back in town and at work today. And I am... here. Life returns to our kooky little version of "normal".
The flat bread melts last week were INCREDIBLE, despite some minor adjustments needed to the
flat bread/pita recipe
I used and the filling. Still? AWESOME. So sayeth the 11-year-old girl. The leftovers from the flat bread/pita recipe made great individual pizzas and were great for just general snacking. All in all, and without having ever tried the
Lean Cuisine
version, I'd say they were a success. Especially since K. has asked for them at least a dozen times in the past three days. I only snapped a few pictures (K.'s was half eaten before I could even get to the camera) and I'll try to get them up before I go to bed tonight.
The menu for this week is a bit.. stale. Another week when I fell back on some simple stand-bys due to lack of time and frustration over grocery prices. Lunches for me will be leftovers and whatever fruit (canned or fresh) that I happen to find. There may be some sandwiches thrown in, depending on whether or not I have bread in the apartment. (K. keeps wanting me to stop buying bread and just make some whenever we want bread.) It's also that time of year when I try to clean out the "pantry" (my "pantry" is what should be the linen closet in the hall) and freezer by cooking what's in them. It won't be too much longer before we either (1) move or (2) start stocking up for hurricane season. And it's just good sense to clean out the pantry on a regular basis so that's influencing menu choices, too.
Speaking of grocery prices (ugh), K. and I took a little trip over towards the dog track last week to order and pay for April's
Angel Food Ministries
box. It's not the best area of town, but the people we spoke with were nice, even friendly, and we made it out of that part of town without incident. We go back on the 26th to pick up the food. What we'll be picking up is the "basic box" listed
here
. We opted not to get any of the "specials" boxes this month.
And... I think that's it for now. I've got some bill/general paperwork filing I really need to catch up on so that I can spend a few hours later today playing with my
Webkinz
puppy, Mr. Puggles, and maybe work on some jewelry.
As always, much gratitude for Laura at
I'm an Organizing Junkie
for hosting
Menu Plan Monday
.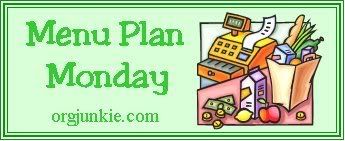 Sunday
breakfast: cinnamon rolls
lunch: foraging
dinner: Cracker Barrel (A.'s treat)

Monday
breakfast: cinnamon rolls
lunch: leftovers or sandwiches
dinner: pasta, salad

Tuesday (PAY DAY)
breakfast: cinnamon rolls / oatmeal
lunch: leftovers or sandwiches garlic boca patty, small baked potato, leftover veggies
dinner: pork chops, rice, broccoli

Wednesday
breakfast: pancakes
lunch: ?? (grocery shopping with Mom)
dinner: egg noodles and meatballs, salad

Thursday
breakfast: cereal and toast
lunch: leftovers or sandwiches
dinner: fish, mac & cheese, peas, salad

Friday
breakfast: waffles
lunch: leftovers or sandwiches
dinner: individual pizzas (on pita recipe from last week; still trying to work kinks out of recipe)

Saturday
breakfast: pancakes
lunch: ??? flat bread melts
dinner: pot roast, baked potatoes, lima beans