The bread bowls I made with the chicken salad last week were such a hit that when it turned a bit on the nippy side this weekend, we decided to have some chili served in bread bowls for dinner tonight. It was great. The recipe I've been using for the bread bowls lends itself to all sorts of uses.
On other fronts, K. has FCAT testing this week. She's been preparing by watching episodes of the old television show
Soap
(borrowed from the library) and
Highlander
as well as playing dress-up dolls online. She's also eager to go to the Renaissance Festival next weekend (the 15th, weather permitting).
This weekend A. started making me an excel spreadsheet (full of formulas and drop boxes and all sorts of neat things) to calculate the labor and cost of supplies used in the jewelry and chain maille I make, just in case I ever take the notion to actually try and sell anything (rather than give it all to the kid).
While I haven't been getting much writing done, I have been creative in other ways (like the necklaces, bracelets, and earrings I keep making for K.). And I've been aching to bake again. I've missed baking bread several times a month and am currently researching ways to satisfy that desire but still keep my expenses down (whole wheat and other wholesome grains are just too expensive lately).
And I guess that brings us to a menu for this week.
As always, much gratitude for Laura at
I'm an Organizing Junkie
for hosting
Menu Plan Monday
.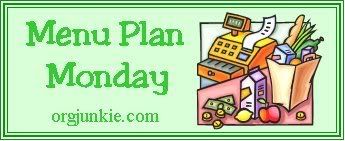 Sunday
lunch: foraging on leftovers
dinner: chili in bread bowls

Monday
lunch: pb&j sandwich, salad, pineapple chunks
dinner: chili-filled baked potatoes, salad

Tuesday
lunch: pb&j sandwich, salad, mandarin orange segments
dinner: pork chops (not sure how yet), mashed potatoes, weird peas, salad

Wednesday
lunch: pb&j sandwich, salad, pineapple chunks
dinner: breaded cod fillets, corn nibblets, broccoli, salad

Thursday
lunch: pb&j sandwich, salad, mandarin orange segments
dinner: pasta, salad (possibly bread if I feel froggy enough to make some)

Friday
lunch: leftover pasta (there's always leftovers for some reason)
dinner: beans, rice, hoe cakes, salad

Saturday
lunch: RENAISSANCE FESTIVAL
dinner: foraging on leftovers